Guest Contributor: Brianna Ramirez of Design By Brianna
Hi, my name is Brianna and I run my blog called Design by Brianna. I'm a South Bay Native and currently still live here. When having friends that come visit here, they typically just think of going to San Francisco but in reality, San Jose is a destination in its own right. In the past few years San Jose has been making a name for itself as a place to visit, I mean it is part of Silicon Valley!
I recently had a fun San Jose staycation with my blogger besties, hosted by The San Jose Fairmont. We stayed in a lovely luxury suite and our itinerary was jam-packed with local fun. Throughout our stay, we enjoyed lounging by the Fairmont pool, a shopping spree in Santana Row, late night spa fun with the bubbly flowing, and then brunch in the morning. I invite you to plan your own San Jose getaway, keep reading to see my top 10 favorite south bay hangout spots + so many Instagram worthy locations!
Santana Row - I love this place! I have been strolling down this beautiful outdoor high-end mall since High School. It is a great place to meet friends for lunch, get some shopping done, and relax with a cup of coffee. I would first stop by Cocola Bakery for some coffee and baked goods. Next stop would be H&M and Sephora! The Sephora location here is fairly new and not as crowded as the one across the street at Valley Fair. Then I would grab lunch at Mendocino Farms. The inside is bright and well decorated, perfect for that Instagram shot. For drinks, I would recommend El Gardin for Margaritas or Vbar located inside Hotel Valencia. Anywhere you walk down Santana Row you can snap a great photo for Instagram but my favorite is the colorful wall with vintage bar window gates.
Valley Fair Mall - I know I mention this place can get crowded, but this is a pretty large mall. They have stores from Nordstroms, Mac, Quay Australia, NYX Cosmetics, and Forever 21. Plus a huge food court with some amazing places to eat like Sushirrito, Super Duper Burger, Din Tai Fung, Meh Oh Ramen, and Loving Hut (vegan-friendly). I love chilling in the outdoor terrace area. They have a nice fire pit and is a great place to actually just chat and relax with your friends.
San Pedro Square Market - If I'm going to Downtown San Jose you can usually spot me at San Pedro Square. I love this area because you have a wide variety of food shops and drinks. You can get Mexican, Vietnamese, or Italian food and grab a drink at the bar on site. Right next stop is a cafe/bar called B2. It has a great open space to sit and get some work done or just sit and chat over some drinks. Plus the decor inside is quirky and vintage-inspired, which is why I love this location and the rinks are great too!
Haberdasher - This is a speakeasy-inspired bar. I love all the crafter drinks here and it has vibes of the 1920s with a modern flare. This is a smaller bar so on weekends it can get packed and there are lines out the door, but the drinks are worth it. My favorite drink is the Watermelon Jive.
SoFA District - This part of San Jose you will find lots of street art, mainly because the SoFA District is the Silicon Valley Creative District in San Jose. Along 1st Street, it has amazing restaurants, coffee shops, and bars. Some of my favorites are Academic Coffee, Cafe Stritch, and Forager. I also love the SoFA marketplace because they have Drag Brunch on Sundays! Also Every first Friday of the month they have an Art Walk which showcasing local artist in the San Jose area. You can find soooo many amazing wall art pieces here too!
San Jose Museum of Art - I love coming here with my girlfriends for their special events. They usually have Third Thursday events where they have the museum open at night for extended hours and have live music and drinks available.
The Rose Garden - If you are in the area in the springtime, the Rose Garden is a must! There is a fountain in the middle of the garden and sooo many different types of rose hybrids and flowers. This is a great location for a picnic/bbq or to take family photos. Or in my case, some great spring photos for the blog.

Alameda Street - The Alameda street leads into downtown San Jose, it passes by the SAP Center where large concerts and the Shark Tank is located. If you walk the down the Alameda you will find a great variety of local small business, chain stores and restaurants. Some of my favorite places in this area are Black and Brown (Clothing Consignment/ Thrift Shop), Recycle Bookstore (soo many used books!), Luna Kitchen (Mexican Food), and Crema Coffee (great place to work and study).
Japantown - I recently discovered this part of San Jose because a close friend of mine moved into this neighborhood. Just like the SoFA District, Japantown is full of local artists. You can find street art around every corner. Here you can find Japanese food such as ramen and sushi. They also have a cute local clothing shop called Classic Loot where you can find 80-90's vintage pieces and other small business brand selling their merchandise. There is also a karaoke bar called 7 Bamboo which you will most likely find me singing there on the weekends.
Japanese Friendship Garden - If you love scenic walks you are gonna love this place. Similar to other Japanese gardens it is calm and serene with many koi ponds and beautiful bonsai trees. Perfect spot for photos, especially when the cherry blossoms start to bloom in the springtime! Plus it is free to enter.
Apple Visitor Park - Okay so this is not right in San Jose, but for all you Apple enthusiasts you will like this. Just a 15 min drive in Cupertino you can check out the Apple Visitor Center. They have a smaller Apple Store there and a cafe, so it is a nice area to get work done or enjoy a cup of coffee. Pus if you go to the top level you can see the newly constructed Apple Park HQ.
Check out these Instagram-worthy San Jose hotels!
Explore these San Jose tours and adventures: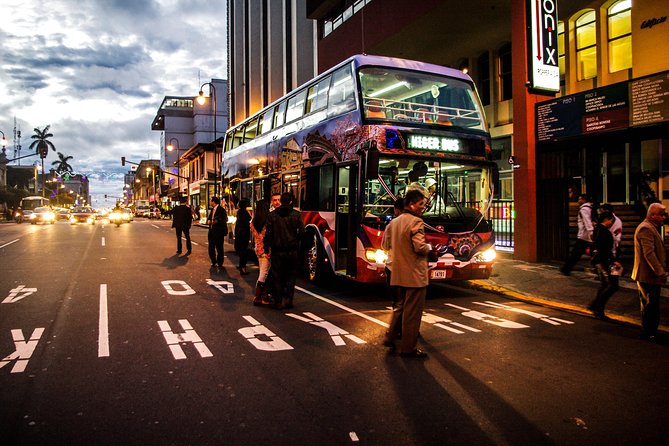 Experience the sights, sounds, and flavors of San Jose on a 5-hour evening bus tour.
Starting from your hotel, a comfortable double decker bus with onboard WiFi serves as your transportation for the evening. See over 25 of the city's landmarks and stop for a guided tour at key locations.
Enjoy an included dinner of local cuisine, before drop-off at your hotel.
Visit the tech giants of Google, Facebook, and Apple as well as their modest starting points. With round-trip transportation provided, you'll be able to skip traffic and navigation and simply enjoy the experience.
COPYRIGHT: THIS ENTIRE SITE Ⓒ 2014-2019 GENNIFER ROSE. ALL OF THE PHOTOGRAPHS AND COPY HEREIN, UNLESS OTHERWISE NOTED, ARE COPYRIGHTED BY THE PHOTOGRAPHERS AND AUTHORS. NO PART OF THIS SITE, OR ANY OF THE CONTENT CONTAINED HEREIN, MAY BE USED OR REPRODUCED IN ANY MANNER WHATSOEVER WITHOUT EXPRESS PERMISSION OF THE COPYRIGHT HOLDERS. PLEASE NOTE THAT THIS POST MAY CONTAIN AFFILIATE LINKS.